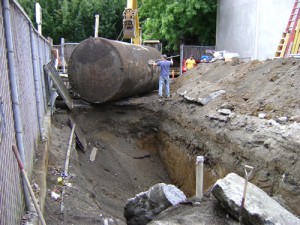 K&S Environmental, Inc. is an experienced, hands-on company. Our highly-trained staff is equipped to assist and inform you of your options and responsibilities when it comes to a variety of environmental concerns.
Our capabilities range from performing residential heating oil tank sampling and decommissioning to designing and installing systems for contaminated soil and/or groundwater.
With over 20 years of experience on environmental projects directly related to underground storage tanks, K&S has extensive experience developing work plans to address the issues encountered at contamination sites. We also have gained extensive experience in the construction aspect of a cleanup project. With close attention given to the details, we are experts on knowing the ins and outs of the environmental and compliance portions of our projects.
K&S has worked closely with regulators throughout Oregon and Washington, and maintain a positive working relationship with the various regional staffs. K&S is also certified in Oregon and Washington as a Women Business Enterprise (WBE).